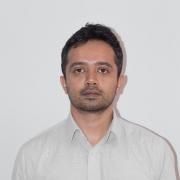 Vikram John
Senior-lecturer
School of General Education after A. Mashani
English Language
Email: v.jon@satbayev.111
Professional biography
Senior Lecturer at the English Language Department at Satbayev University.
Educational Qualifications:
Master's in Sports Management, Johan Cruyff Institute, Barcelona, 2017 Bachelor of Engineering, Mechanical Engineering, VTU, Belgaum, India, 2005 Pre-sea Training (Marine Engineering), MERI, Mumbai, India, 2006
I am primarily interested in teaching professional communication in English. I have designed courses focused on this theme.
Education
2001 - 2005
SJCE, Mysore, India (under VTU, Belgaum)
Mechanical Engineering, Bachelor degree
2016 - 2017
Johan Cruyff Institute, Barcelona, Spain
Sports Management, Master's degree