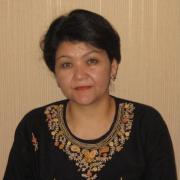 Bukabayeva Bakhitgul Erdesbayevna
Candidate of Philology
Associate Professor
Associate Professor
School of General Education
English Language
Email: b.bukabayeva@satbayev.111
Professional biography
Associate Professor, English Language Department of Satbayev University, Candidate of Philological Sciences.
Qualification - English Language teacher with experience of 27 years. I started my teaching career in 1993 as a teacher at H.A.Yasawi IKTU.
1993-2008 Lecturer, Senior Lecturer of the Department of English Philology, Head of the "Linguistic Center", counterpart of the US Peace Corps volunteer, Deputy Dean for Academic Affairs of the Faculty of International Relations, trainee-scientific applicant of H.A.Yasawi IKTU.
2008-2012 Associate Professor of the Department of Linguistics and Professional Communication of Abylai Khan KazUIR & WL
2012-2016 Head of the Department of Professional Communication,
2016-2020 senior teacher of the Department of Foreign Languages ​​at Abai KazNPU
2020-present. Associate Professor of Satbayev University.
The English Language Department. The author of 30 scientific and methodical publications in the field of ontogenesis of speech act, CLIL
Education
1988-1993 Almaty Pedagogical Institute of Foreign Languages Specialty: The English Language Qualification: English Teacher (secondary school)
1994-1999 Hoja Ahmet Jasawi International Kazakh-Turkish University. Specialty: Socio-cultural service and tourism Qualification: tourism and hotel manager
2007 - Control Committee in Education and Science under the Ministry of Education and Science of the Republic of Kazakhstan. Candidate of Philology. Specialty: 10.02.19- language theory. Theme "Lexical meaning in the ontogenesis of speech act: its formation and its development"
Scientific projects
Ontogenesis of speech act Methods of teaching foreign languges
Problems of content and language integrated learning (CLIL)
Publications
1. Multilingual personality in Multilingual Education. Oxford Journal of Scientific Research, 2015, No. 1 (9) (January-June). Volume IV. «Oxford University Press», 2015. P.439-445. Databases Scopus. Impact -Factor- 3.826. ISSN 0305-4882.(co-author)
2. Предметно-языковое интегрированное обучение: опыт и перспективы. НАУКА И МИР Международный научный журнал, № 6 (70), 2019, Том 2 стр. 57-60 Импакт-фактор журнала «Наука и Мир» – 0.325 (Global Impact Factor 2019, Австралия) ISSN 2308-4804 (co-author)
3. EXPERIENCE IN IMPLEMENTING THE METHODOLOGY OF CONTENT AND LANGUAGE INTEGRATED LEARNING IN THE TRAINING AND RETRAINING CENTER FOR CLIL TEACHERS. AD ALTA: Journal of Interdisciplinary Research 2019-09/01-VII 154 pages P.49-53 Databases Scopus. Impact -Factor 1,38 ISSN 1804-7890 (co-author)
4. Principles of the formation of grammatical components of speech act and their use in forming multicultural personality. Materials of the international scientific symposium "The third Modernization of Kazakhstan: Woman. Society. Education and Science"
5. «Формирование и развитие лексического значения в онтогенезе речевой деятельности» материалы VIII Международная научно-практическая конференция Европейская наука ХХІ века-2012. Volume 12. Филологическая наука 07-15 май, 2012
6. Учебная программа Английский язык для 5-9 классов общеобразовательной школы. НАО имени Ы.Алтынсарина, 2010 Астана (co-author)
7. STAR мемлекеттік қызметшілерге арналған ағылшын тіліндегі деңгейлік оқулық (co-author)