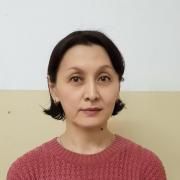 Gulzhan Zh Nuruldaeva
Candidate of technical sciences
Senior-lecturer
School of Chemical and Biological Technologies
Email: g.nuruldayeva@satbayev.111
Professional biography
Candidate of technical Sciences. He has been working at Satbayev University since 2004. The main results of scientific research are reflected in more than 30 publications (articles, reports at international and national conferences) and 5 innovative patents of the Republic of Kazakhstan.
Scientific projects
Nuruldaeva G. Zh. worked as a researcher in the following research projects: - development of scientific bases and technology of construction and synthesis of nanostructured damping materials under the program "Development of nanoscience and nanotechnology in the Republic of Kazakhstan"; - solution of environmental problems of oil refining, petrochemical and mining and metallurgical industries of Kazakhstan under the program " Technologies for hydrocarbon and mining and metallurgical sectors and related service industries»
Publications
Education
Candidate of technical Sciences in specialty 05.26.01 "Labor Protection".
2004-2006 - she studied at the graduate school of the Satbayev University.
1999 - she received a master's degree in Environmental Protection.
1998 - graduated from the University with a degree in 170340 «Applied ecology»
Syllabuses