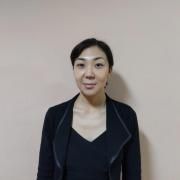 Ibragimova Nargis Tokenovna
Master of humanities
Tutor
School of General Education named after Al-Mashani
English Language
Email: n.ibragimova@satbayev.111
Professional biography
Qualification - English teacher with 5 years of experience.
Winner of state grants of educational degrees "Bachelor" at the state University named after Shakarim and "Master" at the Kazakh University of international relations and world languages. Abylay Khan
Started teaching and professional career in 2015 as an English teacher in Nur-Sultan. From 2015 to 2016 - teacher, 2016-2017 - senior teacher. From September 2017 to December 2017, worked as an English teacher at NARXOZ University in Almaty. In 2018-2019, worked as a private tutor in the subject "English language", and also had a scientific internship at The Kazakh Ablai Khan University of International Relations and World Languages. Since 2019, have been working as an English tutor at the Department of English Language at Satbayev University.
Additional information:
1) The owner of the certificate IELTS 7.0
2) Finalist and winner of the competition for studying in South Korea by the educational program "2+2" in South Korea at Gyeongsang National University.
3) Author of scientific articles in the field of psychology and pedagogy published in the scientific journal «Известия КазУМОиМЯ имени Абылай хана».
Scientific projects
Teaching English as a foreign language: traditional and innovative methods.
Publications
Scientific article "The essence of project activity in domestic pedagogy" in the scientific journal 4 (47) 2017-Almaty-P. 24-32 9 p. Scientific article "Structure and stages of organization of project activities in modern conditions" in the scientific journal 2 (49) 2018-Almaty-Pp. 107-115 9 p. Scientific article "Analysis of didactic possibilities of the project method in teaching a foreign language" in the scientific journal 1 (52) 2019-Almaty-Pp. 37-45 9 p.
Education
2011 – 2015 - Semipalatinsk State University named after Shakarim, Semey.
Specialty: Foreign language: two foreign languages
2013 – 2015 - Gyeongsang National University, South Korea.
Specialty: English language and literature
2017 – 2019 - KazUIR & WL named after Abylai Khan, Almaty.
Specialty: Pedagogy and Psychology