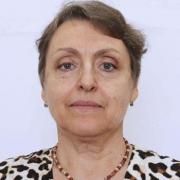 Smirnova Lyudmila
Candidate of Philology
Professor
School of General Education named after Al-Mashani
English Language
Email: l.smirnova@satbayev.111
Professional biography
Professor, English Language Department
Qualification – Secondary school English language teacher
1976-1977 – English Language Instructor, Chair of Foreign Languages, Shymkent Pedagogical Institute
1977-1999 – Lecturer, Senior Lecturer, Associate Professor of the Kazakh State University of International Relations and World Languages 1998-1999 – Associate Professor of the Diplomatic Academy Chair of Foreign Languages
2006-2016 – Assistant Professor, Associate Professor of the Kazakh-British Technical University, International School of Economics
2016-present – Professor of Satbayev University. The English Language Program Coordinator. The Head of the Reading Club for young teachers.
The author of 50 publications in the area of English Grammar, Text linguistics, Methodology of Teaching English, Critical Thinking.
Certificates
1989 – English Studies Course, Ealing College of Higher Education. London, Great Britain.
1998 – Cambridge Examination in English for Language Teachers Certificate Course. Level One. British Council, Almaty.
1998 – International House Certificate Course in the Teaching of English as a Foreign Language to Adults. Soros Foundation, Almaty.
2003 – Communication Skills Workshop. Vienna, Austria.
2004 – On-line Teacher Training Course in Critical Thinking Skills. University of Oregon
2014 – Webinar "Shaping the Way we Teach English". US State Department, Almaty.
2015 – Online Teacher Development "Shaping the Way We Teach English, 1: The Landscape of English Language Teaching. US State Department, Almaty.
Publications
1. Scaffolding Preparation for a Reading Exam. Journal of Teaching English for Specific and Academic Purposes. Vol. 4, No 2 (2016), pp. 391-398
2. English language education in Kazakhstan: changes and plans for the future. Межкультурная коммуникация: теория и практика. The XVI International Scientific and Practical Conference "Linguistic and Culturological Traditions and Innovations". Tomsk, 2016, pp. 310-318
3. Teacher and Teaching Challenges in EFL Higher Education in Kazakhstan. Conference proceedings: 1st Global Conference on Multidisciplinary Academic Research (GCMAR-2018) Bangkok, 5-6 May, 2018, p. 19-25. www.apiar.org.au
4. English Language Education in Kazakhstan: Degree of Student Satisfaction. The III International Scientific and Methodological Conference "Modern Innovations and Technologies in Foreign Language Education". Almaty. December 20, 2018, pp. 11-15
Education
1. 1972-1976. Almaty Pedagogical Institute of Foreign Languages
2. 1982-1986. M. Torez Moscow State Pedagogical Institute of Foreign Languages, Candidate of Philology, specialty "Germanic Languages".