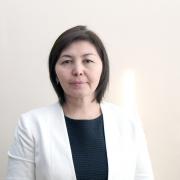 Mamyrbayeva Kulzira Kaldybekovna
Ph.D.
Associate Professor
Mining and Metallurgical Institute named after O.A. Baikonurov
Department of Metallurgical processes, Нeat engineering and Technologies of special materials
Email: k.mamyrbayeva@satbayev.111
Professional biography
I began my career as a junior researcher in the laboratory "Glass and Glass Crystal Materials" of NIIStrompoekt after graduating in 1992, KazNU named after Al-Farabi, "Chemistry" faculty, an engineer - at Satbayev University, head of educational laboratories, since 2005 I was transferred to the post of teacher of this department, in 2008 - senior lecturer, associate professor, and currently - assistant professor at the Department of "Metallurgical Processes, heatengineering and Technology of Special Materials".
In 2008 I defended my master's thesis on the processing of oxidized copper ores. In 2009, I enrolled to the doctoral courses under the KazNITU and the Colorado Mining School joint preparation program and the topic of my doctoral dissertation was the theoretical and applied foundations of heap leaching of copper off-balance ores and the processing of copper-bearing productive solutions. I defended my doctoral dissertation on the topic "Hydrometallurgical Processing of Oxidized and Mixed Copper Ores" on October 30, 2012 at the dissertation Council of KazNTU "6D070700-Mining" for the degree of Doctor of Philosophy PhD and received a Ph.D. in metallurgy.
I conduct classes in Kazakh, Russian and English (50%) languages ​​for specialties 5B070900- "Metallurgy", 7B07203 - "Metallurgy and Mineral processing", "8D07204 - Metallurgical engineering". In the taught disciplines, guidelines, teaching materials, and syllabuses in Kazakh, Russian and English have been developed.
Education
1987-1992 - Kazakh National State University named after Al-Farabi
2006-2008 - Kazakh National Technical Universitynamed K.I. Satpayev - Master's Program
2009-2012 - Kazakh National Technical Universitynamed K.I. Satpayev - Ph.D
Scientific projects
2018-2020 - Justification and development of a technology for processing gold-arsenic-coal concentrates, RIPR - grant financing.
2015-2017 Project "Development of technology for producing powders of metallic and oxidized iron of nano dispersed sizes" No. 757 MON.GF.15. RIPR. 26. - grant financing
2015-2017 The project "Concentration and purification (refining) of non-ferrous metal solutions. No. 757 MON.GF.15. RIPR.21. - scientific supervisor, grant financing.
2004-2007 The project of the International Scientific-Technical Center - ISTC (ISTC K 464.2) - "Processing of ore and man-made arsenic-containing products to produce low-toxic arsenic compounds". Processing of gold-arsenic-containing raw materials, utilization of arsenic waste; the processing of pyrite materials, cinder; obtaining nanopowders of iron oxides; liquid copper extraction, the problem of hail formation during copper extraction.
Potential research studies of doctoral students
Development and justification of technology for processing cobalt-nickel containing ores